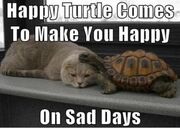 Happy Turtle can be/is a meme where a person takes a popular picture/comic and makes it happier and even funny, with awesome results. A turtle comes to your door (Happy Turtle) and showers you with gifts and candy, and rewards you greatly for your happiness in memes. Sometimes people who make memes scary and corrupt it gets visited by Happy Turtle, who warns them not to do it again, but most of the time they are visited by Zalgo, who makes them suffer and damns them to his realm. 
Happy Turtle doesn't talk, although the instant he comes into vision you seem very happy and cheerful. Happy Turtle also sometimes brings a gift-bag to those who are extra good. He is also mentioned somewhere to be Splendorman's pet turtle. So, smile up!!!
Feeling sad
On rainy days?
Well don't!
The Happy Turtle is here!
To bring everyone love and cheer!