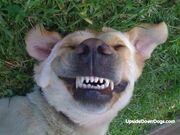 Smile Puppy Is a really cute puppy that got hugged and kissed alot and now he says spread the love. every time people see this picture, they get good dreams, every time they look at the picture. Now, since you looked at the picture you will have a good dream and Smile Puppy will tell you to spread the love! :D
Ad blocker interference detected!
Wikia is a free-to-use site that makes money from advertising. We have a modified experience for viewers using ad blockers

Wikia is not accessible if you've made further modifications. Remove the custom ad blocker rule(s) and the page will load as expected.