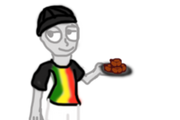 So, you know about the Rake, right?
Well, this is about a creature called the Baked.
Essentially he is the Rake, in a beanie hat (or toque for you Canadians), he wears sunglasses, white surfer shorts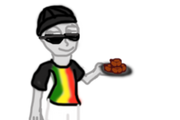 and a Bob Marley shirt. His pass time is eating pot brownies and watching the Harold and Kumar movies. So if in the middle of the night, you hear a Harold and Kumar movie on, and you go to the living room, you will see a grey skinned guy who is like, "dude... s'all right, you can go back to bed." If you go back to bed, in the morning, you will wake up with 10 dollars next to you for letting him watch your television, if you sit and join him, he will see you as a friend, but if you scare him away, he will never bother you again, because he will leave a sticky note on your bedroom door saying, "you're a total buzz kill, bro."
But really, he's no threat to anyone, nor is he evil, he just wants to kick back, relax, enjoy some "half baked" goods, and laugh up a storm. He wouldn't hurt anyone because he's so calm and is a pacifist. If any problem arrises, he offers those involved a brownies, who could turn down baked goods that might get you baked?
Ad blocker interference detected!
Wikia is a free-to-use site that makes money from advertising. We have a modified experience for viewers using ad blockers

Wikia is not accessible if you've made further modifications. Remove the custom ad blocker rule(s) and the page will load as expected.