I log on and see new Happypastas daily, and I guess there are people here and writing, though... not many are members of this specific wikia, as well as of wikia members too.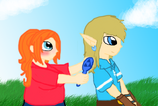 So, you ask what I have been up to lately? Well, I made a doodle as seen here ->
Now as for you people, you people of the internet, please tell me what you are up to.... PLEASE keep it clean and not spooky, thank you =)
Ad blocker interference detected!
Wikia is a free-to-use site that makes money from advertising. We have a modified experience for viewers using ad blockers

Wikia is not accessible if you've made further modifications. Remove the custom ad blocker rule(s) and the page will load as expected.